---
Senator John Warner Stops by the Shop!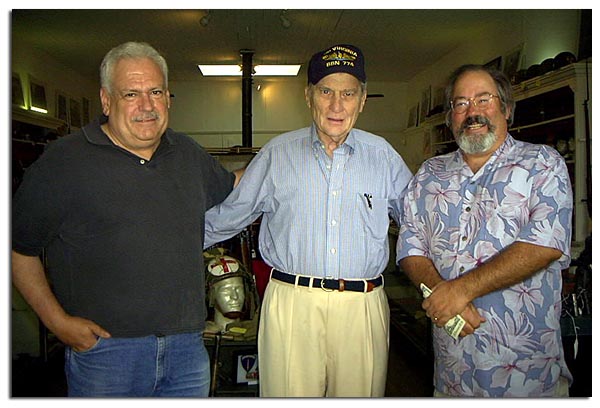 Rick Stumbo, Senator John Warner (R-VA) and Cliff Sophia visit at the shop.

My name is Cliff Sophia. I have been a full time antique arms and militaria dealer for 16 years. I have been a student of arms and military history for at least 40 years. I am a native Virginian and I live in Northern Virginia with the love of my life, my wife, Trish. We have two grown sons, both of whom we are very proud.

I have bought and sold thousands of fine arms and pieces of militaria over the last decade. I have appraised arms and militaria for The Smithsonian Institute, The National Firearms Museum, The National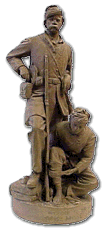 Park Service and several of the US

Military Museums. I have appraised literally thousands of pieces in private hands, from the very largest collections to the beginning collector with just 1 or 2 guns.

Years ago I collected Civil War Long Arms and then my interests changed and I collected World War One American items for 20 years. After becoming a full time dealer I realized how hard it was to reconcile collecting with "selling", so I sold my collection and here we are. I hope to bring the best pieces to your collection at the best prices.

Just one more word and I'll let you go. I intend to have one of the fairest consignment fees in the business, 20%. I will not accept any items that I do not feel have a fair chance of selling and I will get you your top price if humanly possible. There will be no hidden costs. C.S. Arms Inc. will assume the costs of shipping, insurance, advertising and all other intangibles that go along with retail sales. All dealings will be up front and fair to both of us. It doesn't get any better than this.
---
HOME | ABOUT US | TERMS | WANTS | LINKS
For CS Arms, Inc.
Shop Address:
Mailing Address:
9150 John S. Mosby Highway (Route 50)
in historic Upperville, VA
Box 602
Upperville, VA. 20185
(540) 592-7273 or (540) 592-7274
E-Mail: sophiacsarms@aol.com
Contents & Photos Copyright © 2001- 2021 CSArms, Inc., All Rights Reserved.
Site design by Sam Lisker